11th - 13th May 2023, Chania, Crete, Greece
Flying to Chania via Athens
At the crossroads between Europe and the Middle East, Athens is trully accessible. The award-winning Athens International Airport services 130 countries and is the gateway to many amazing Greek islands and mainland destinations. Aegean Airlines, Greece's leading carrier, currently has a network of 153 destinations in 44 countries.
Athens International Airport (Venizelos International Airport) is located about 20 km (12 miles) east of the city. Daily flights arrive from all over Europe and International destinations. You may find out more regarding the flight from your destination to Athens with a click on the below links:
European Destinations
International Destinations
Even if you did not find your city in the above links, new flights are added on a weekly basis.  Venizelos International Airport offers a wide variety of facilities, including tourist information, assistance with luggage, coffee bar, car rentals, metro, bus and taxi.
Piraeus Port to Chania by ferry
There are daily departures from Pireaus Port to Chania and vice versa. Most ferries depart late in the evening (around 9.00pm) and arrive early the next morning (around 6.00am). From spring to fall there are additional departures during the daytime. Prices and booking are available in the links below:
Anek-Superfast:
https://www.anek.gr/en/
Blue Star Ferries:
https://www.bluestarferries.com/en-gb
Minoan Lines:
https://www.minoan.gr/en
Athens Airport to Piraeus Port
Upon arrival to the Athens International Airport, there are three available option for reaching Piraeus port:
Bus (X96): PEIRAIAS- AEROLIMENAS ATHINON (EXPRESS)

EXPRESS Bus routes connect directly the Athens International Airport (AIA) "Eleftherios Venizelos" with the Athens city center and Piraeus Port. Service is provided on a non-stop basis seven days a week including holidays.
All buses depart from the Arrivals Level (outbound trips from airport). BUS tickets are sold at the info/ticket-kiosk (located outside the Arrivals between Exits 4 and 5), or onboard (ask operator) at no extra cost. There is a bus leaving for Piraeus every 30 minutes and it takes around 50 minutes to arrive to Piraeus.
Tickets and costs 6.00 €. Children under 6 years can travel free. Half price ticket at 3.00 € is available for student, and people of age under 18 and over 65. Telematic information for bus route X96 (Airport to Piraeus) can be found here.

NOTE: Estimates are given for reference only. Costs may change. Journey time depends always on prevailing traffic conditions. Passengers are advised to allow sufficient time for their transfer from/to the airport. Find all the ticket info at https://www.oasa.gr/en/.

Metro Line 3 (Blue Line)

The metro is available between 06:30 in the morning till 23:30 in the evening. It leaves from Athens airport metro station every 36 minutes.
Metro timetable details for this route at https://stasy.gr/en/timetables/line-3/.
For tickets and cards please check https://stasy.gr/en/.

Taxi

The distance from the AIA to Piraeus Port is 50km and it takes around 40 minutes to drive, depending on traffic. Taxis are available 24/7. The pick up point is at the arrivals level between Exit 2 and Exit 3. The fare from Athens airport to Piraeus port is approximately 50€ during the day (05:00-24:00) and 65 € during night time (24:00-05:00). As taxi cost highly depends on traffic, these are rough estimates.
Fom Chania Airport to Chania city center (Akali Hotel)
Chania Airport "Ioannis Daskalogiannis" is located 14km outside the city center. The trip duration between the airport and the city center is around 25 minutes by taxi, depending on traffic conditions. Taxis are available outside the arrival exits of the airport and the transportation cost to the city center is approximately 30€.
There is also a bus option available, with up to 10 departures daily, depending on the day and season. The full ticket price is 2.30€ and they can be purchased inside the bus or online. The bus trip duration is approximately 35 minutes. Details on schedules, prices and ticket purchasing can be found here.

The bus route starting from the airport ends at the Chania-Rethimnon Busses Station (KTEL station).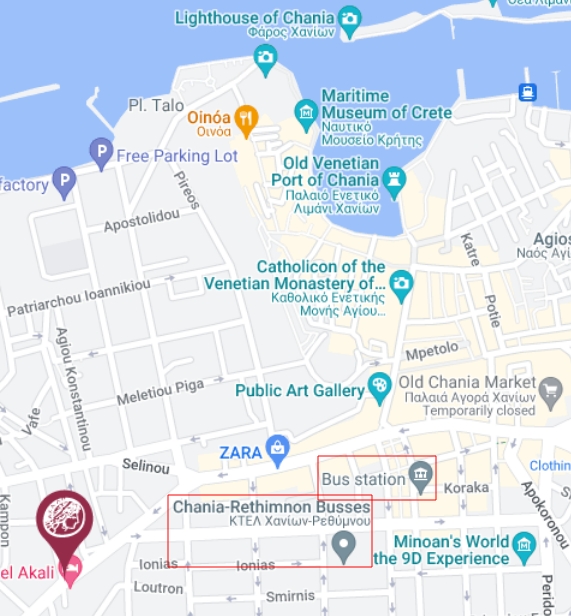 Fom Chania port (Souda) to Chania city center (Akali Hotel)
The port of Souda is located 9km outside the city center. The trip duration between the port and the city center is approximately 10 minutes depending on traffic conditions. Taxis are available at the port and the cost is estimated at 8€.
There is also a city bus option available with the bus stop located outside the port. The bus line connecting the port with the city center is Bus Line 13 and there are two trips per hour. Tickets are available both inside the bus and outside. The regular ticket price is 2.50€ if purchased inside or 1.50€ if purchased beforehand. An ticket issuing machine is located at the port bus stop.
Ticket prices are available here.
Detailed timetables are available here.
Visit https://chaniabus.gr/en/telematics/ for live telematics.
City bus line 13, coming from Souda port, has the nearest stop to hotel Akali on 1886 square. The walking distance between the bus stop and the hotel is 600m.